In his SummerStage cabaret show, Pat Hobbs takes the audience on a multimedia trip through his theatrical and personal firsts. From his over 40 years of entertaining Tulsa audiences to the sweet and funny tale of his longtime marriage to his husband, John, Hobbs has many a tale to tell, and he tells them here most tunefully.
Pat's cabaret, "Firsts!" was fabulous! Selection by selection, he led us through the important moments in his life with joy and also a few tears. The show was original, the music well rehearsed, and the banter hilarious. The fact that the audience had a ball was evidenced by their thunderous applause and standing ovation. This is what SummerStage cabaret should be! Thank you, Pat! -Shirley Elliot, Program Director, Tulsa Performing Arts Center Trust
Pat Hobbs Firsts! takes you from laughter to tears in seconds. What a beautiful, true life he has lived – a life everyone can relate to. And the music! You'll want to sing along with him… and he just might let you!!! – Janet Rutland, Tulsa Performer
I have wanted to work with Pat Hobbs for years and he does not disappoint, good people. The man has such a wonderous attention to detail and is a master craftsman. -Rebecca Ungerman, Tulsa Performer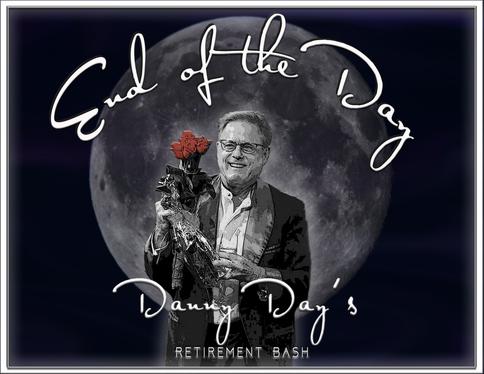 DANNY DAY - END OF THE DAY
Welcome to Danny Day's Retirement Bash!
Danny has been performing in community theatre since his iconic role as Tiny Tim in Christmas Carol when he was 5 years old. That was the beginning of a half century love affair with theatre. The rest has been Tulsa Theatrical History. Danny has performed on every stage in town and for every theatre company. Join Danny as he recounts a lifetime of stories, his own and those of the "not so innocent" during his tour de force one man show. Expect the unexpected in this bawdy, slightly naughty tell-all theatrical smash!
"A most enjoyable show. The writing is deceptively sharp and wise, and Pat Hobbs' performance runs a very real and powerful gamut of deeply felt emotions."
- James Watts, Tulsa World
"Absolutely ADORED Danny Day's retirement bash "The End of the Day." It had everything live theatre should have, came straight from the heart, and was rooted in beautiful truths! Congratulations to Pat Hobbs. Excellent work!"
-Sara Phoenix, Artistic Director,Theatre Tulsa
"This show is the real deal. Sharply written, deftly performed by Pat Hobbs. Every emotion is wrung out of you. James Gregory's accompaniment was simply perfect."
-Karen Watts (The critic's wife)
Produced by Tulsa Project Theatre, Tulsa's only Actor's Equity theatre company, Pat flawlessly portrayed Albin, the aging star of La Cage aux Folles who performs as the drag queen, Zaza. This Tony Award winning musical by Jerry Herman and Harvey Fierstein featured a collaboration with members the renowned Tulsa Symphony Orchestra.
Kander and Ebb's Chicago brought Pat the opportunity to portray that sexy, persuasive, manipulative, virile Billy Flynn. Billy is a suave, educated lawyer who can persuade anyone to do anything. He takes any case as long as it is sure to put money in his pocket.
The Vaudeville Museum performed to standing room only crowds in the confines of McFarlin Library on the University of Tulsa campus. Produced by ECHO Theatre Company and in conjunction with the Oklahoma Center for Humanities, The Vaudeville Museum is a humorous look at stereotype, racism and immigration as told through the eyes of vaudeville performers. Featured acts in the museum are vaudeville stars such as Sophie Tucker, Bert Williams, Fanny Brice, and Bert Savoy, the highest-paid female impersonator (Hobbs) during the 1920s.
As a follow-up to the successful "End of the Day" Cabaret Danny Day returns to the Tulsa Performing Arts Center for a trip through America's Songbook, featuring tunes by Mercer, Arlen, Gershwin and many more. Of course, it wouldn't be Danny Day without a few surprises thrown in for good measure.
"'Bravo' to longtime friend Pat Hobbs! I really enjoyed his Danny Day SummerStage show last night at the Tulsa PAC. In Day, Hobbs has created an alter-ego who sings like Sinatra, has the talent to take us to places ole Blue eyes could take us, but who also frequents worlds Hobbs can't know...from early stage Alzheimer's to the 6th fairway of the golf course at Southern Hills Country Club. I wish Day had a second show so you could find out what that's all about! Bravo Danny Day!" -Steve Clem, KWGS radio, Tulsa
Beauty queens have it all, and as emcee Frankie Cavalier (local actor, Patrick Hobbs) puts it, there's also "something extra" in this production of the farcical Off-Broadway hit that's a send up of beauty pageants - and it's a musical. BroadwayWorld was on hand for the Theatre Tulsa opening.